"By yourself you're unprotected.
With a friend you can face the worst.
Can you round up a third?
A three-stranded rope isn't easily snapped."
Ec. 4:12 The Message
You have strengthened me in ways that matter deeply dear friends. It is moving week for us. I'll see you some time soon.
Joining Sandy and Deidra today.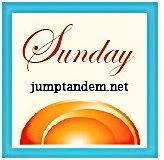 Blessings,
Linda