"You are the salt of the earth, but if the salt has become tasteless, how can it be made salty again? …" Matthew 5:13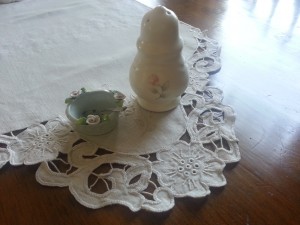 The August sun blazes from a brilliant blue sky day after day. It has scorched the grass. It is brown and crackles underfoot. My flower garden wilts at the end of a day of relentless heat.
We try to find a time to walk – a time when we won't melt into a puddle right there in the middle of our little street. We gaze heavenward, hoping the clouds will cooperate and cover the sun and give thanks for every breath of wind.
It doesn't take long before the sweat begins to bead on my forehead and slowly make its way down my face. If I run my tongue over my lips, there is the taste of salt. I have salt in me. Of course I do, but I rarely give it a thought.
For the rest of this little devotional, please come over to
Laced With Grace.
I'll meet you there.
Blessings,
Linda