Winter has arrived in South Texas. We huddle under quilts at night and hunch our shoulders as cold winds buffet - but I remember those seemingly endless days of triple digit weather and smile with gratitude as I shiver my way to the car.
I am thankful for Christmas. It is, I think, my favorite time of year. When I was younger, the season was all wrapped up in Santa, presents, tins of cookies from my Mom's kitchen, caroling, Christmas programs and wishing for snow.
As I got older, I continued the traditions in my own home, but slowly, quietly, the emphasis has changed. My longing is to move slowly through the days with eyes lifted heavenward - to somehow take in the wonder of His coming and wait with hope for His coming again.,
Yes - I am so thankful for Christmas:
- a Savior who left the glory of heaven to become one of us
- a Father who sent His beloved Son to live and die that I might live
- a young girl who willingly surrendered her life to the call of God
- an honorable man who willingly bore the shame
- a group of shepherds, who heard the news and believed
- wise men who followed the star, worshiped the tiny King, and defied the evil one
- a Father who could not contain His love for His Son and sent angels to herald His birth
- a love I could not possibly deserve come to life
- a promise fulfilled - Unto us a child is born!
- the Word - the perfect Word of God that traces the promise from beginning to end
He came quietly - a baby's cry breaking the silence of 400 years. He came, and nothing will ever be the same. He lives, and He still offers the gift of His sacrifice. The gift of eternal life.
"For God so loved the world that He gave His only begotten Son, that whosoever believeth Him should not perish, but have everlasting life."
John 3:16
Joining the Gratitude Community at Ann's today.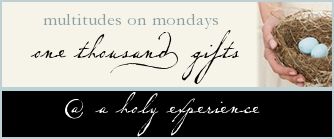 Blessings,
Linda