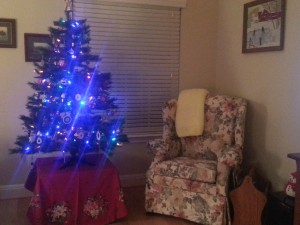 The spot where the sparkly tree stood is empty now – the presents unwrapped and put away. I sit and think back to another Christmas, the one when our daughter was just a tiny girl.
She had come to us in a joyous, unexpected way – a miraculous answer to prayer. A curly-haired, chubby-cheeked miracle. I shopped for my only daughter with an eagerness born of years of anticipation – and shopping for boys. What fun to walk down aisles of baby dolls and tiny tea sets. I don't know who was more excited Christmas morning – a wide-eyed two year old or her Mom.
A bit overwhelmed at first, she soon mastered the skill of tearing through colorful wrapping paper in record time. Within minutes, hours of shopping lay buried under a mountain of paper and bows. She looked under the tree for more gifts and when she realized there were no more……
I am writing at
Laced With Grace
today. I would be honored if you would join me there.
Blessings,
Linda